Les Majors, qui sont-elles?

Il y a EMI, Warner, Sony BMG, Universals...

Ont-elles des liens entre-elles?

Un petit tour de ces grosses compagnies qui dirigent nos goûts musicaux et nous imposent leurs artistes
________________________________________________________________________________________________________________
D'accord c'est en anglais, mais on comprend aisément que cette compagnie est une vraie major à part entière, et l'ont apprend le nom des "filiales"... complètement indépendante donc des autres majors...
EMI is the world's leading independent music company. It operates directly in 50 countries, with licensees in a further 20 and employs around 5,500 people. For the year ended 31 March 2007, EMI Group reported revenue of £1,751.5 million and £62.7 million in underlying profit before tax. In August 2007 EMI was acquired by private equity firm Terra Firma.
The company comprises two divisions – EMI Music, one of the top global recorded music companies, and EMI Music Publishing, one of the world's leading music publishers.
As an owner of digital music content, EMI is extremely well positioned to capitalise on the rapid growth of digital music. EMI's strategy is to deliver music to consumers in any form, at any time and in any place. During the year ended 31 March 2007, EMI Group's digital revenues grew from £112.1 million to £164.2 million, representing 9.4% of total underlying revenue.
EMI Music represents recording artists spanning all musical tastes and genres and owns one of the finest catalogues of recorded music ever assembled with over three million individual tracks. The company's roster and catalogue includes world famous stars and developing artists such as Lily Allen, Corinne Bailey Rae, The Beach Boys, The Beatles, Dierks Bentley, Coldplay, Diam's, Depeche Mode, Gorillaz, Norah Jones, The Kooks, Korn, Lenny Kravitz, Kylie, Pink Floyd, Raphael, RBD, Joss Stone, The Rolling Stones, 30 Seconds To Mars, KT Tunstall, Keith Urban, Utada Hikaru and Robbie Williams plus some of the world's finest classical artists including Nigel Kennedy, Simon Rattle, Itzhak Perlman and Angela Gheorghiu.
EMI Music's record labels include Angel, Astralwerks, Blue Note, Capitol, Capitol Nashville, EMI, EMI Classics, EMI CMG, EMI Televisa Music, Mute, Parlophone and Virgin.
With around 4,800 employees worldwide, EMI Music's revenue in the year ended 31 March 2007 was £1,350.2 million.
EMI Music Publishing owns one of the largest catalogues of songs in the world, containing more than a million contemporary and classic titles. Its roster of songwriters is unparalleled and the company has won and continues to win more industry accolades and publisher of the year awards than any other music publisher. Its catalogue of best-selling songs includes Bohemian Rhapsody, I Heard It Through The Grapevine, New York, New York, Over the Rainbow, the James Bond theme, Singin' In The Rain, Santa Claus is Comin' to Town, Wild Thing, We Will Rock You, Angels, Baby Love, Crazy in Love and Daydream Believer and is home to many of the world's best songwriters including Arctic Monkeys, James Blunt, Cathy Dennis, Jay-Z, Alicia Keys, Pink, Usher, Kanye West and Amy Winehouse.
With offices all around the world, EMI Music Publishing has about 640 staff and in the year ended 31 March 2007 generated £401.3 million in revenue.
For an illustration of how record labels and publishing companies fit into the structure of the music business please click here.
EMI Group Limited registered office:
27 Wrights Lane
London W8 5SW
Registered in England No. 229231
Source EMI, cliquez-moi!
________________________________________________________________________________________________________________
Warner
Warner est un patronyme. C'est également le nom d'un conglomérat américain qui a pour origine le studio de cinéma hollywoodien fondé par les frères Warner : Warner Bros. Pictures.
Warner Music Group (WMG) became the only stand-alone music company to be publicly traded in the United States in May 2005. With its broad roster of new stars and legendary artists, Warner Music Group is home to a collection of the best-known record labels in the music industry including Asylum, Atlantic, Bad Boy, Cordless, East West, Elektra, Lava, Maverick, Nonesuch, Reprise, Rhino, Roadrunner, Rykodisc, Sire, Warner Bros. and Word. Warner Music International, a leading company in national and international repertoire operates through numerous international affiliates and licensees in more than 50 countries. Warner Music Group also includes Warner/Chappell Music, one of the world's leading music publishers.
Les labels Warner :

the atlantic records group

The Atlantic Records Group consists of Atlantic, Bad Boy, Elektra and Lava Records. In 1947, Ahmet Ertegun and Herb Abramson started an independent jazz and R&B label in New York City, which they named Atlantic Records.

Growing from a one-room operation into one of the preeminent companies in the rapidly evolving music industry, the Atlantic label soon became recognized and revered around the world - a name synonymous with artistry and quality.

For nearly six decades, Atlantic recordings have had a profound impact on the development of modern music, while entertaining and engaging listeners with songs that have rooted themselves in our collective consciousness. Atlantic's rich history is distinguished by an array of legendary artists who broke new ground and set new musical standards, among them such icons as Ray Charles, Aretha Franklin, John Coltrane and Led Zeppelin.

Today, Atlantic continues to be marked by musical diversity, embracing a spectrum of chart-topping performers who span the contemporary pop, rock, R&B, and hip-hop landscapes. The company is home to many of the world's most popular recording artists, among them Yolanda Adams, Bjork, Ryan Cabrera, Tracy Chapman, Phil Collins, The Darkness, Craig David, Missy Elliott, Fabolous, Fat Joe, Jet, Jewel, Juvenile, Kid Rock, Lil' Kim, matchbox twenty, Jason Mraz, Sean Paul, P.O.D., Rush, Staind, Sugar Ray, Rob Thomas, T.I., Trick Daddy, Twista, and many more.

Bad Boy Records was formed in 1994 by Sean "P. Diddy" Combs. In just over ten years, under the guidance of Combs, Bad Boy has grown to become one of the most dominant urban labels in the music business, with acts that have had significant crossover success. Bad Boy Records has sold more than 75 million records worldwide and its Grammy Award-winning catalog and roster of multi-platinum artists include B5, Boyz N Da Hood, Mase, Carl Thomas, 8 Ball & MJG, Mario Winans and P. Diddy himself. Bad Boy has been home to popular rappers such as Notorious B.I.G., The Lox, and Mase, as well as R&B stars Faith Evans and 112 and pop group Dream.

Elektra Records was founded more than half a century ago in the heart of New York City's Greenwich Village by legendary music pioneer Jac Holzman. Over the years, this boutique label set the standard for breaking new ground in the worldwide music scene.
Elektra was one of the primary forces in folk music in the 1960s, virtually inventing the artist-driven environment that fueled the Southern California rock boom a decade later. Elektra was also one of the first Warner Music Group labels to "go global" with such border-crossing successes as Carly Simon and Joni Mitchell. Elektra's impressive legacy also includes renowned artists such as The Doors, Linda Ronstadt, and Jackson Browne.

Lava Records was established in 1995 by Jason Flom. Since Lava's inception, among the artists the label has brought to prominence are Kid Rock, matchbox twenty, Uncle Kracker, Sugar Ray, The Corrs, Vanessa Williams, Trans-Siberian Orchestra, and Simple Plan. Lava's newest artists include Antigone Rising, Toby Lightman, O.A.R. and Smile Empty Soul.

Roadrunner Records has earned its place as one of the most prominent international independent record labels. The Roadrunner catalog boasts early releases from such seminal artists as King Diamond, Type O Negative, Sepultura and Annihilator. More recently, the label has experienced unprecedented success with multi-platinum artists Nickelback and Slipknot, Gold-certified Stone Sour and Killswitch Engage, as well as modern heavy hitters Black Label Society, Trivium and Machine Head. Though primarily known as a metal and hard rock label, Roadrunner's roster also includes acts such as The Dresden Dolls and newcomers Madina Lake. Still headquartered in the Netherlands, Roadrunner occupies offices in New York, now the A&R hub for the label, as well as the United Kingdom, Canada, Germany, France, Japan and Australia.

www.atlanticrecords.com [ http://www.atlanticrecords.com/ ] www.badboyonline.com [ http://www.badboyonline.com/ ] www.lavarecords.com [ http://www.lavarecords.com/ ] www.roadrunnerrecords.com
Les labels Warner indépendants :


independent label group

Independent Label Group is composed of Warner Music Group's Asylum Records and East West Records.

Asylum Records, one of Warner Music Group's newest labels, is designed to provide full promotion, marketing and sales support to urban, independent music labels and artists. Asylum Records is distributed by WEA Corp., Warner Music Group's U.S. sales and marketing company.

East West, one of Warner Music Group's newest label groups, provides full promotion, marketing and sales support to rock artists. East West affiliated labels are distributed by the Alternative Distribution Alliance, Warner Music Group's leading distributor of independent record labels.

Brefffff..... tous ceux qui sont repris dans l'image de la première citation faite...
Pour tout savoir suivre ce lien :
http://www.wmg.com/
________________________________________________________________________________________________________________
Universal Music
sur Wikipédia : http://fr.wikipedia.org/wiki/Universal_Music_Group
Universal Music Group (UMG), aussi connu sous le nom d'Universal, est un label de musique, le plus grand des 4 majors du disque avec une part de marché de 25.5%. UMG a été créé en 1998 lorsque le groupe Seagram a fusionné les activités de PolyGram et de du MCA Music Entertainment Group. Depuis 2005, le groupe appartient au français Vivendi dont le siège est à Paris.

UMG a produit des albums musicaux pour de nombreux artistes [1] dont notamment Wisin & Yandel, Bob Marley; The Killers, McFly, Shania Twain, Bon Jovi, Elton John, Method Man, Tupac Shakur, Aaliyah, Jay-Z, Mariah Carey, t.A.T.u., Eminem, Dr. Dre, Diana Ross, Reba McEntire, Luciano Pavarotti, U2, blink-182, Kanye West, Rihanna, Bone Thugs-N-Harmony, Rammstein et 50 Cent.

Principaux labels en 2004

* Barclay Records
* Decca Records : http://www.deccaclassics.com
* Deutsche Grammophon : http://www.deutschegrammophon.com
* DreamWorks Nashville : http://www.dreamworksnashville.com
* DreamWorks Records (voir aussi DreamWorks)
* Geffen Records : http://www.geffen.com
* Interscope A&M Records : http://www.interscope.com
* Island Def Jam Music Group : http://www.islanddefjam.com, http://www.islandrecords.com, http://www.defjam.com
* Lost Highway Records http://www.losthighwayrecords.com
* MCA Nashville : http://www.mca-nashville.com
* Mercury Nashville : http://www.mercurynashville.com
* Mercury Records : http://www.mercuryrecords.co.uk
* Philips
* Polydor : http://www.polydor.co.uk
* Universal Motown Records Group : http://www.universalmotown.com, http://www.motown.com
* Verve Music Group (Jazz) : http://www.vervemusicgroup.com
o Impulse! : http://www.impulserecords.com
o GRP : http://www.grp.com
o Verve Records : http://www.ververecords.com
o Verve Forecast



________________________________________________________________________________________________________________
Sony BMG
:
Lien à suivre pour la source
: http://www.sonybmg.com/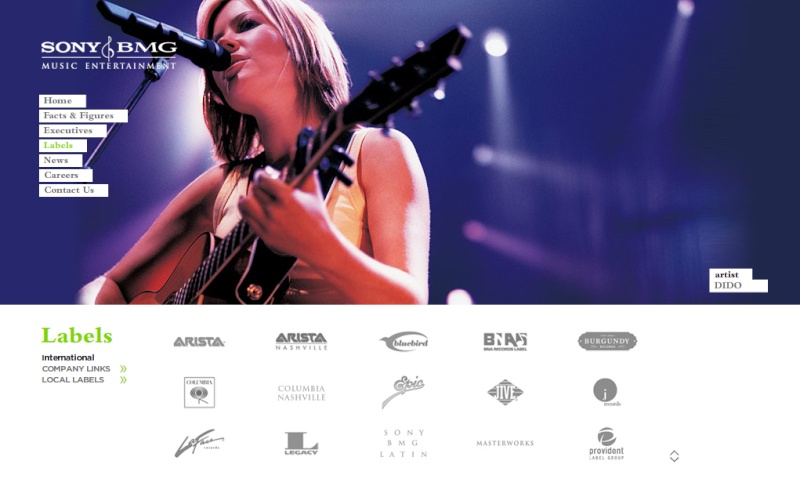 Les labels :

________________________________________________________________________________________________________________
En lisant l'article ci-dessous consacré à la diffusion musicale sur Internet, les 4 principales majors seraient :
Universal Music, Sony BMG, Warner Music et EMI
Et virgin ?
MySpace et les majors : les leçons d'une révolution musicale
par Benjamin Ferran
MySpace et trois majors créent une co-entreprise pour diffuser gratuitement de la musique et vendre des morceaux sans DRM. L'aboutissement d'une révolution qui doit faire vaciller Apple, premier vendeur aux Etats-Unis.
Révolution ? Non. Aboutissement d'une révolution. Longtemps campées sur un modèle payant et intarissables sur l'intérêt de verrouiller leurs morceaux par des DRM, les majors du disque se sont résolues ces derniers mois à revoir leurs plans. Au point de s'approcher, enfin, des usages des internautes. Jeudi soir, un nouveau pallier a été franchi. Ensemble, Universal Music, Sony BMG et Warner Music ont annoncé avec MySpace la création d'une co-entreprise, MySpace Music, qui diffusera cet été, aux Etats-Unis, l'ensemble de leur catalogue. Trouble-fête, la quatrième et dernière major EMI pourrait les rejoindre sous peu.
Pour les amateurs de musique, l'accord ne se traduira par aucune nouveauté exceptionnelle. Les 30 millions de visiteurs mensuels de MySpace pourront écouter gratuitement et en intégralité des chansons, les partenaires se rémunérant grâce à la publicité. Ce modèle existe déjà sur quelques sites, comme Imeem qui dispose du catalogue des quatre majors. Le téléchargement des morceaux sera aussi proposé moyennant finance, comme sur iTunes. De nombreux morceaux seront débarrassés des DRM, et qu'ils pourront donc être écoutés sur n'importe quel baladeur, iPod en tête. Des ventes de sonneries, de places de concerts, de t-shirts et autres produits dérivés sont également prévues.
Pas de réelle nouveauté dans la forme, donc, mais beaucoup dans le fond. Car les trois majors n'y vont cette fois pas à reculons. Les nouvelles pratiques – plus de DRM, diffusion gratuite en streaming financée par la publicité – sont bien assumées, dans ce qui s'apparente à une prise en compte, tardive, des évolutions du marché. Après avoir laissé Apple tirer profit de leur frilosité, elles n'ont plus qu'une idée en tête : créer des contrepoids à iTunes et reprendre en main la distribution de leur musique. Universal Music, Sony BMG et Warner Music ont par exemple refusé à Apple de vendre leur catalogue sans DRM, faveur qu'elles ont accordée à Amazon.

LExpansion.com du 4 avril 2008

Invité

Invité





________________________________________________________________________________________________________________


Sujets similaires
---
Permission de ce forum:
Vous
ne pouvez pas
répondre aux sujets dans ce forum